Story and photo from The Roanoke Times >>
Centuries-old struggle for equality continues, speaker says at banquet honoring Dr. King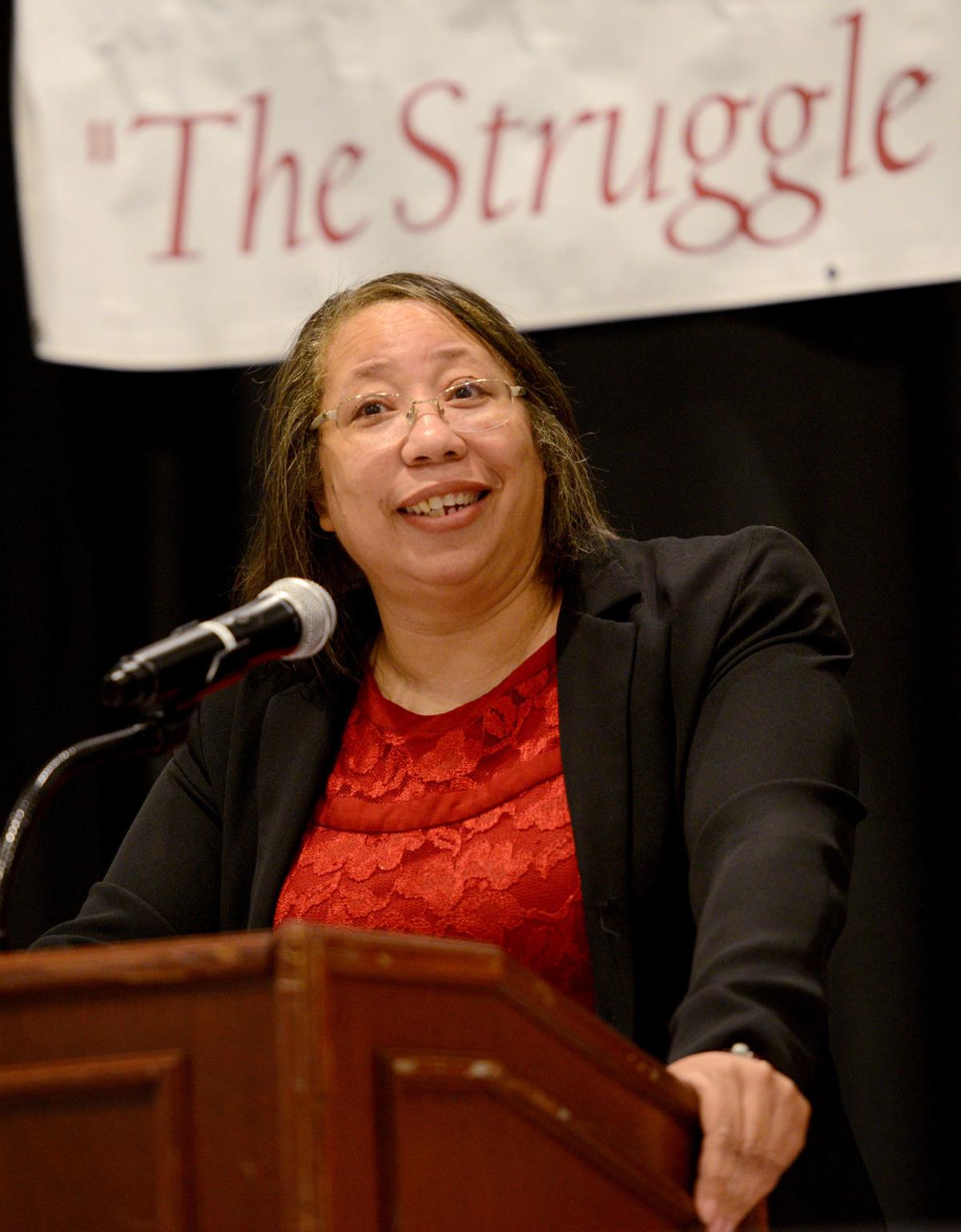 By Henri Gendreau henri.gendreau@roanoke.com 540-981-3227
From a pig farm in Georgia, Ramona Taylor first learned of Dr. Martin Luther King Jr. from watching his mule-drawn funeral brigade on a black-and-white television.
"That was my first realization of who Dr. King was, some man in a pine box going down the road," she said.
Only much later did Taylor, an assistant attorney general, recognize King as the embodiment of the struggle. And that the struggle for justice continues was the theme on Friday when Roanoke's chapter of the Southern Christian Leadership Conference held its 24th annual banquet honoring King.
Taylor, who is also president of the Oliver White Hill Foundation, gave the rousing keynote speech before elected officials and other Roanoke elite gathered at the Holiday Inn.
"I feel like I'm the newest citizen in Roanoke," said Taylor, who lives in Chesterfield County. She visited Roanoke in November, when city leaders unveiled a state historical marker before the childhood home of Hill, a civil rights activist whose work helped overturn separate-but-equal rules.
"What is the struggle? Because that's such a nebulous word. As lawyers we like to define everything," said Taylor, who opened her speech with jokes about her profession.
"Some of the first lessons we learn in law school is don't go to jail with your client and don't go to jail for your client," Taylor said. "So Michael Cohen missed that day of class."
The crowd laughed and clapped. U.S. Rep. Ben Cline, R-Rockbridge County, nodded into his water glass.
"The struggle is unfettered citizenship," Taylor said. "The struggle is my right as an American to do and live and to achieve in a way that the Constitution of the United States tells me to live."
As she sketched achievements over the country's history — the Emancipation Proclamation, Brown v. Board, Civil Rights acts, and the election of President Barack Obama — Taylor suggested racism, and the struggle to overcome it, is all-too alive.
"If something is strong enough to live 400 years, do you think you can end it with a pen?" she said, referring to 1619, the first record of Africans arriving to the continent.
Taylor urged people to change a narrative of victimhood, to wake up from post-1970s bourgeois complacency, and to pick up the mantle from their ancestors in the struggle for justice.
"In this new game against racism, the rules are changing," she said. "Because people are justifying their racism. Justice is being transformed into justification, so their hate is evolving into something they believe is logical and rational, which we know this hate's not."
To fight that, Taylor said, requires a change in perspective. It requires educating racists on why they are wrong. And it requires challenging hate head-on "with a foundation of faith and a mantle of fortitude."
After Taylor's speech, the chapter awarded honors to several community groups and members.
The Rev. Dr. Martin Luther King Jr. Drum Major for Justice Award honorees were: Dr. Nancy H. Agee, president and CEO of Carilion Clinic; Clinton Barlow, a Roanoke City Public Schools teacher; Gwen Basham, who works at William Fleming High School; Cynthia Brown, a retired teacher; Victor O. Cardwell, a labor and employment lawyer; Ruth Claytor, a retired educator; Larry LeGrande, a Negro Leagues Baseball legend; Dr. David Points, general manager of WFJX radio; Lorena Wilson, a volunteer leader; and Brian Wishneff, president of a consulting firm.
The Local Office on Aging was awarded the Rev. Dr. Martin Luther King Jr. Community Service Award. Other winners included Patricia L. Hancock, a community fundraiser; Vijeh Hardy, a healthcare worker; Megan Mizak, a librarian; and Cheryl Twine, a founder of an assisted living company.
Brogan Chubb, a law student at William & Mary, was honored with the Dr. Perneller Chubb-Wilson Justice Award, which is named after the chapter's president.
Before presenting these awards, Chubb-Wilson told the gathered dignitaries of when she met King in Danville in 1963.
"I stated to him, What in the world are you going to do? You're too short to be doing anything. I'm taller than you myself!" Chubb-Wilson said as the audience laughed. "And he said it doesn't matter how you look, your shortness or whatever, as long as you got God on your side you can climb mountains and do other things." She added, "He shut my little mouth up quick."