Story from The Roanoke Times >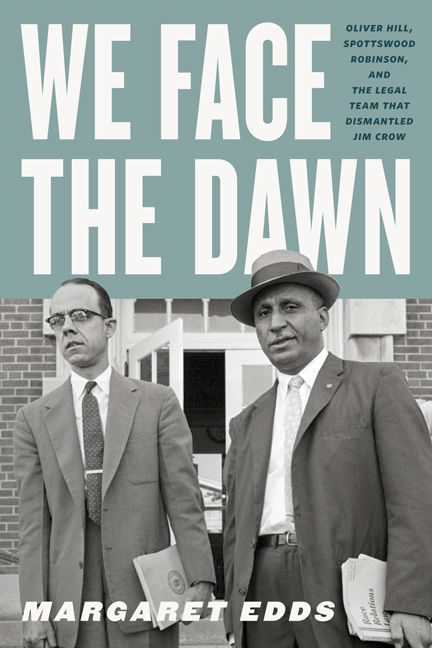 Oliver Hill grew up in Roanoke, studied law at Howard University, returned to Roanoke to practice law, and from Roanoke launched his campaign to rid the country of the Jim Crow laws that followed the Supreme Court's 1896 Plessy v. Ferguson decision — the official proclamation of "separate but equal."
Hill studied law with Thurgood Marshall, the late Supreme Court justice, and met many influential leaders of the African-American community in Washington, D.C., and Virginia. He met his younger partner (also a Howard Law alumnus) Spottswood William Robinson III, when Hill began practicing law in Richmond.
Together, Hill and Robinson would blaze a trail that would lead a generation out of the wilderness of segregated education and into a full-blown campaign for equal rights and access for all Americans. It was a long and sometimes arduous trip.
The Supreme Court decision in the case of Brown v. Board of Education of Topeka, Kansas, determined that segregated schools were inherently unequal — a repudiation of Plessy v. Ferguson. That case is the culmination of work in Virginia by Hill and Robinson, who were in the vanguard of the fight to provide equal education for African-American children — and equal pay for their teachers — through application of the law.
Margaret Edds has recreated the local, regional and national communities that gave rise to the powerful legal consortium that confronted and defeated the Jim Crow laws of the American South — a codified system that relegated African-Americans to second-class status.
Edds has also recreated Roanoke, Richmond and Washington beginning in post-World War I through the rest of the 20th century. It is the recreation of Roanoke during the period between the wars that will hold some appeal for local lovers of history. It is especially instructive for those who remember the supportive sense of community in black neighborhoods.
Edds' extensive use of correspondence, contemporary newspaper accounts, memos and court documents brings the era of Oliver Hill to life. The reader is presented with vibrant portrayals of Roanoke, Richmond and Washington from the perspective of successful African-American entrepreneurs, lawyers and other professionals and their business, social and religious lives in a community of neighborhoods.
"We Face the Dawn" is a welcome addition to the story of how an oppressed segment of American citizens were able to build success for themselves and others. Edds recreates the neighborhoods whose loss was lamented in Dr. Mindy Thompson Fullilove's "Root Shock" (which features Roanoke's Gainsboro community) and a vibrant black middle class described in Elizabeth Dowling Taylor's "The Original Black Elite" (which describes the powerful and successful black entrepreneurs who lived and thrived in the vicinity of Howard University).
The long reach of Oliver Hill's influence is described by some of the Virginia leadership who were inspired by him, including former Gov. Douglas Wilder and former Gov. (and former Roanoker) Linwood Holton.
Spot Robinson was influential, as well, but in a different manner. He was a studious, meticulous lawyer who influenced many attorneys and judges (including colleagues who later served on the Supreme Court). He also served as chief judge on a federal court and on the tennis courts in Richmond. Those Richmond tennis courts also served black politicians who followed Robinson, including Gov. Wilder and former Richmond Mayor Henry Marsh and nonpolitician Arthur Ashe.
The detail-oriented Robinson and the gregarious self-assured Hill formed a good partnership and, working together, they led the national efforts to end racial discrimination. Edds has provided a readable account of that venture. She also poses questions in the epilogue about what our society should be doing to continue the work now and in the future:
"By helping to sound the death knell of Jim Crow segregation, Oliver Hill and Spottswood Robinson answered that question for their time. Time and circumstance are never static, however. The challenge they pose for this and future generations is to do the same, with equal freshness, in ours."