By Matt Chittum matt.chittum@roanoke.com | 981-3331 May 1, 2019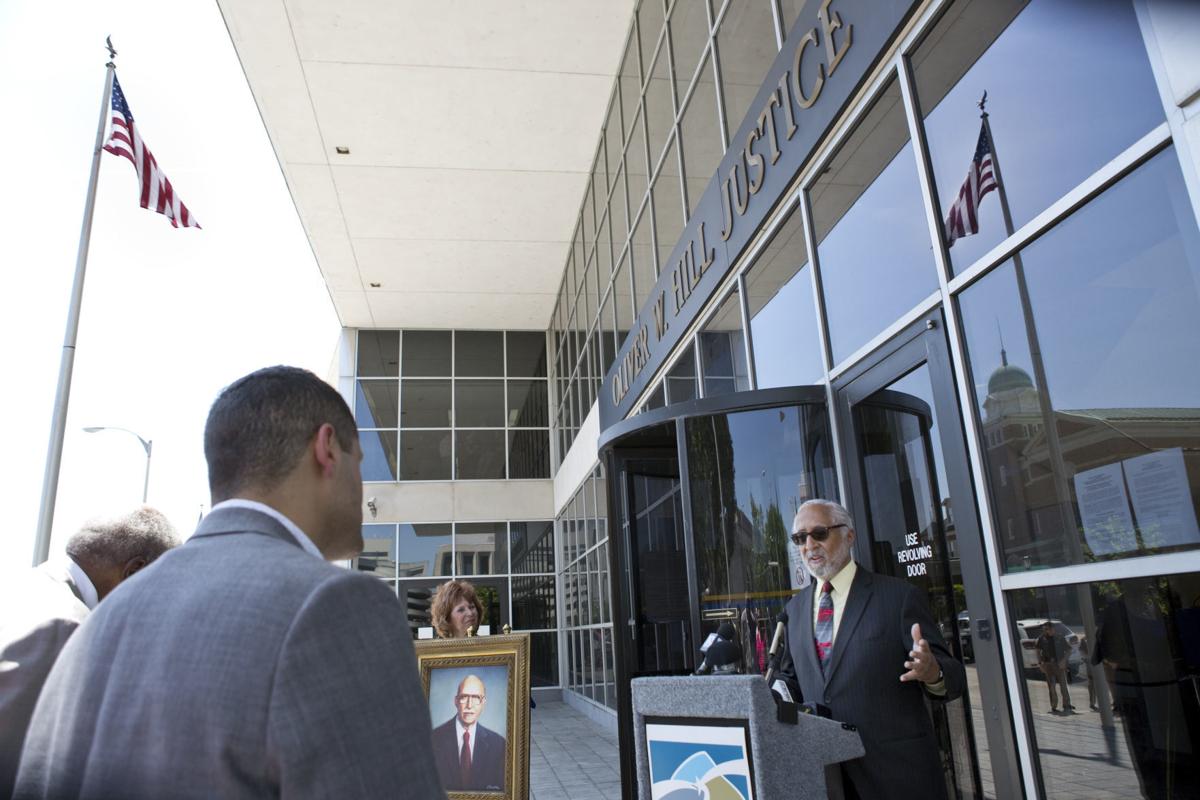 Roanoke continued its embrace of civil rights legal titan Oliver Hill on Wednesday with the formal renaming of the city's courthouse after the attorney.
Better than 100 people, many from Richmond, gathered in what shade they could find outside the doors of the newly christened Oliver W. Hill Justice Center.
"Roanoke is proud to claim Oliver Hill as one of its own," Mayor Sherman Lea said of Hill, who was not born here but spent his formative years in the city and later practiced law here before settling in for a long career in Richmond. "The impact he's made on the history of our country sets an example for all of us here in Roanoke to follow."
The dedication follows the unveiling of a state historical marker in front of Hill's childhood home last year. Plans are also underway to construct a plaza named for Hill near where his law office once stood in the Gainsboro area, state Sen. John Edwards said Wednesday.
The crowd gathered in front of the courthouse — on both the national Law Day and the 112th anniversary of Hill's birth — included his son, Oliver Hill Jr., and his one-time protégé and legal partner, former state Sen. Henry Marsh. Hill died in 2007 at age 100.
Hill Jr. said his father, were he alive, would accept the honor humbly and on behalf of the other civil rights legal giants who stood with him.
Hill, best known for his work on a Prince Edward County case that became part of the landmark Brown v. Board of Education of Topeka, Kansas, case that ended school segregation, was hailed by speakers as a transformational figure.
William Broadhurst, chief judge of the 23rd Judicial Circuit, called Hill "a forceful change agent at the epicenter of a cultural earthquake that led to a legal tsunami that washed over a country that frankly had gotten content with pretending it was an example of being fair and just and equal."
"His legacy and the gifts he's given us allow us to stand here together today," said Ramona Taylor, president of the Oliver White Hill Foundation, which owns his former home at 401 Gilmer Ave. N.W. and operates a youth mentoring program there.
Hill was born in Richmond, but came to live on Gilmer Avenue at age 6 while his mother and stepfather lived and worked in other places. For 10 years, Hill was raised by Bradford Pentecost, a chef with the Norfolk and Western Railway, and his wife Lelia.
"He felt like Roanoke shaped him," Hill Jr. said of his father, including the dignified bearing of the Pentecosts.
Hill himself called the couple two of the most influential people in his life and credited them with instilling both self-esteem and respect for the dignity of others regardless of their economic or social status, according to author Margaret Edds, author of a recent book about Hill and his legal partner Spottswood Robinson called "We Face the Dawn."
Hill graduated from Howard University Law School — one of the few places a black person could get a law degree in the 1930s — finishing second in his class. He was just behind his friend, fellow civil rights warrior and future Supreme Court Justice Thurgood Marshall. Robinson, a little younger than Hill and Marshall, also earned a law degree from Howard and later became a federal judge as well.
Hill returned to Roanoke to begin his law practice in the late 1930s. It proved to be a struggle, Edds documents. Hill couldn't make a living and was forced to return to Washington, D.C., to wait tables. He did do enough in Roanoke, however, to gain the attention of the NAACP, through which he would later take on numerous key civil rights cases.
The most famous involved black students in Farmville who walked out of the Robert Russa Moton High School to protest poor conditions there. On their behalf, he filed the lawsuit Davis, et al. v. School Board of Prince Edward County, which became one of the five cases that were part of the 1954 Brown decision by the U.S. Supreme Court.
As part of Monday's ceremony, Taylor and artist Elaine Bankston unveiled Bankston's portrait of Hill, a gift from the foundation to hang in the courthouse.
"It speaks to how far we have come through the decades," Roanoke NAACP President Brenda Hale said before the ceremony. She added that the work isn't finished, but the recognition shows the work that's been done.
That was a theme of the day.
In his remarks, Broadhurst recalled that he first questioned whether naming the courthouse for Hill was a good idea.
He cited a quote from an Arthur Miller play: "You should never wear your best trousers when you go out to fight for freedom and truth."
One way to interpret it, Broadhurst said, is that you put on your best clothes when you no longer feel the need to go out and fight for freedom and truth, as Hill did.
In naming the courthouse for Hill, he said, "We might be tempted to say, 'Look at how enlightened we are … we're entitled now to put on our best trousers, and we need do no more.' If that is what we do as a community, then we do not honor his [Hill's] legacy. We insult it."
He added he's proud to be part of a community willing to continue the fight.
Taylor called the day a beginning, and a time to do as Hill did: "Recognize what is wrong, resolve to make it right, and move forward without fear."